Bluebird Boys Put Together Solid Regular Season; Girls Improve Throughout Season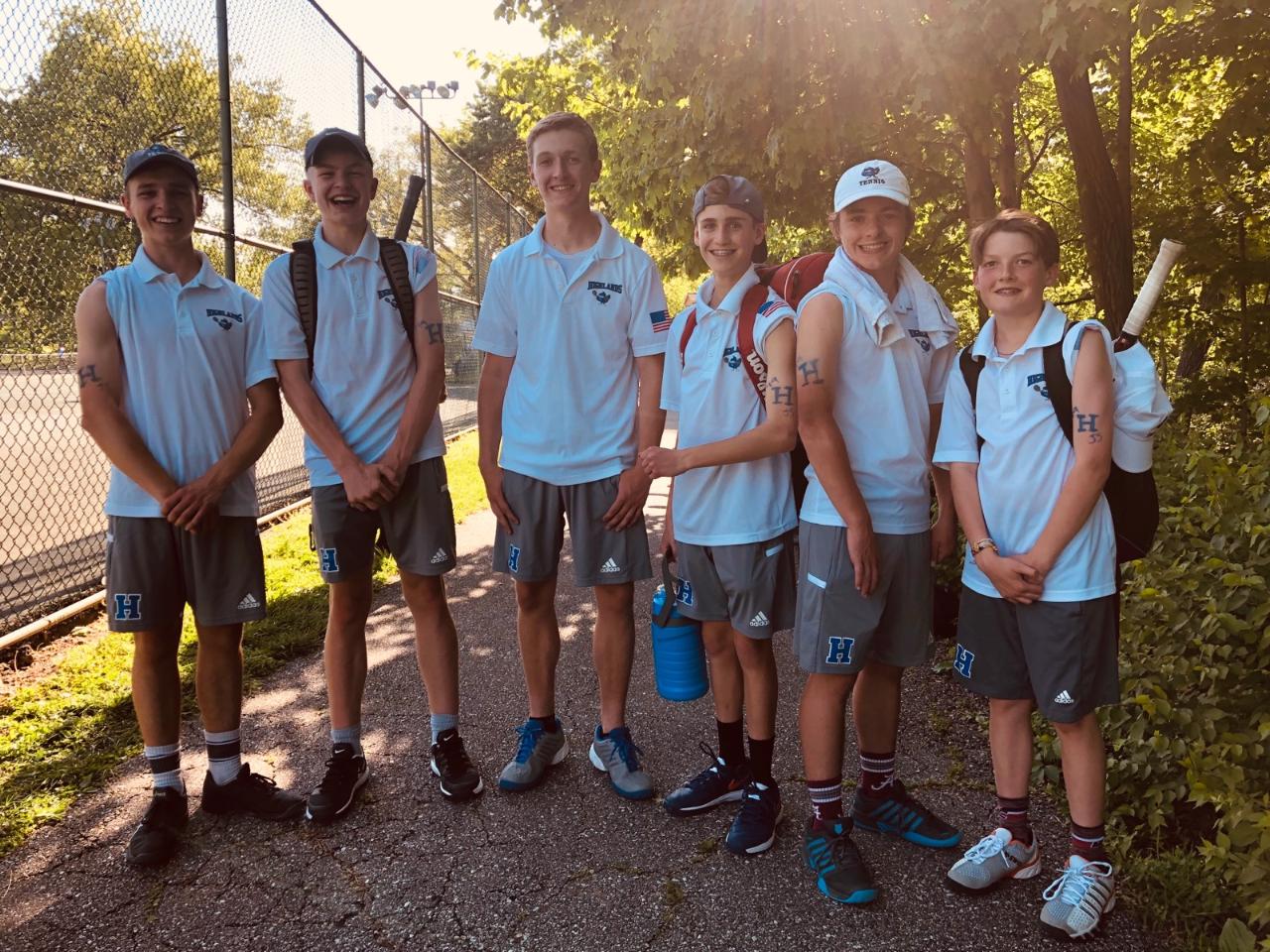 The Highlands Boys tennis team is 16-1 nearing the 9th Region Tournament. Highlands plays Boone County to finish the regular season Thursday.
Less than a week away from the 9th Region Tournament, the Highlands Bluebirds tennis teams appear to be in good shape.
The Highlands boys are 17-1 with one match remaining against Boone County at Tower Park on Thursday. They have a nice combination of high school and middle school players on varsity.
"We have great team chemistry. Surprisingly, it's a very mature team considering the number of varsity middle schoolers,"
said
Kris Laskey
, Highlands Head Coach.
"I think we've gotten off to a good start with people rotating into different positions and everyone just being good teammates overall."
Jacob Schuh
. He alternates at second and third singles with sophomore
Joss Finseth
. Sophomore
Peter Laskey
plays first singles.
"A lot of the middle schoolers have played before,"
Schuh said.
"But they've never really been on a team before. I think a big part of it is bringing them into the atmosphere of the team and learn how to play as a team. Tennis is a lot of times an individual sport. It's different, but I think it's been great to get a lot of the younger guys playing well for the team."
The first Highlands doubles team consists of seventh graders
Eli Back
and
Eli Hornsby
. Sophomore
Matthew Erickson
and eighth grader
John Laskey
make up the second doubles team.
"We have several middle schoolers train in the off-season,"
Coach Laskey said.
"Certainly, it comes in handy in high school season to come in comfortable enough with your game that they can just play and not be bothered by the fact that they're opponents are a head taller than them."
Highlands is playing in the 9th Region for the first time since 2004. The tennis regions mirror the basketball, baseball, softball, soccer and volleyball regions.
Covington Catholic handed Highlands its lone loss of the season. It came by a 4-1 score on March 26 in Park Hills.
"We're going to do the best we can. I think there's some advantage to not having something to compare it to last year,"
Coach Laskey said.
"I think the boys have a great chance at doing well in the singles and doubles. We've been fortunate with the weather the last couple weeks to get some matches and practices in, which isn't always the case with spring sports. That's been great for their team morale and team building."
The Highlands girls may be 6-9. But they did just beat Newport Central Catholic at Tower Park on Monday. Highlands has one regular season match remaining against Campbell County on Friday at 3:45 p.m. at Tower Park.
"I'm very pleased with our season,"
said
Kevin Listerman
, Highlands Head Coach.
"We had a lot of girls step up to fill some voids from last year, especially in our singles players. Right after spring break, we settled on positions with the girls. We did a lot of mixing and matching early in the season. As they have grown comfortable with their roles and their teammates, we seem to have been playing much better tennis. I thin the kids have taken well to my approach and played well the last couple weeks."
Of the nine losses, six have been 3-2 scores. The only 5-0 loss came at Notre Dame in the second match of the season on March 13.
"A lot of them could have gone the other way. We've had several matches with tiebreakers,"
Listerman said.
"Ultimately for us, it's about getting the group ready for the regional tournament and figuring out what those combinations to singles and doubles are. Our girls have worked really hard. They've done a great job being good teammates and understanding the process more so than worrying about wins and losses in terms of the team."
Listerman could not give enough praise to senior
Liz Schwalbach
. Schwalbach took over the first singles spot after playing doubles last year.
Schwalbach said singles play is all about one's personal mentality. In doubles, you have a partner on the court to encourage each other and push on when things are not going well.
"I spent a lot of time taking other lessons and in practice, focusing on different singles techniques and game styles that have allowed me to adjust pretty well,"
Schwalbach said.
"The off-season's definitely helped because normally, I will do drills in singles rather than doubles so I've had a nice mix of both."
Highlands has another senior on the second doubles team in
Samantha McKinley
. Her partner is sophomore
Megan Benzing
.
The second and third singles players for Highlands are freshman
Olivia Hoffmann
and junior
Reagan Lindeman
. The first doubles team consists of freshman Helen Halbauer and sophomore
Rachel Hoffmann
.
The region tournament takes place at Lloyd Memorial next week. Listerman said Notre Dame and Ryle have solid teams. He said Ryle's two doubles teams are probably the top two in the region.
"I think the region is kind of a toss-up,"
Listerman said.
"I don't there's a dominant player out there that everyone else is playing for second. But there's a whole group of girls and Liz is in that group that if they play well over the next week, they'll have a chance to advance to the state tournament."
The state tournament returns to the University of Kentucky from May 30 to June 1.