Schroeder Finishes Second in Two-Mile Run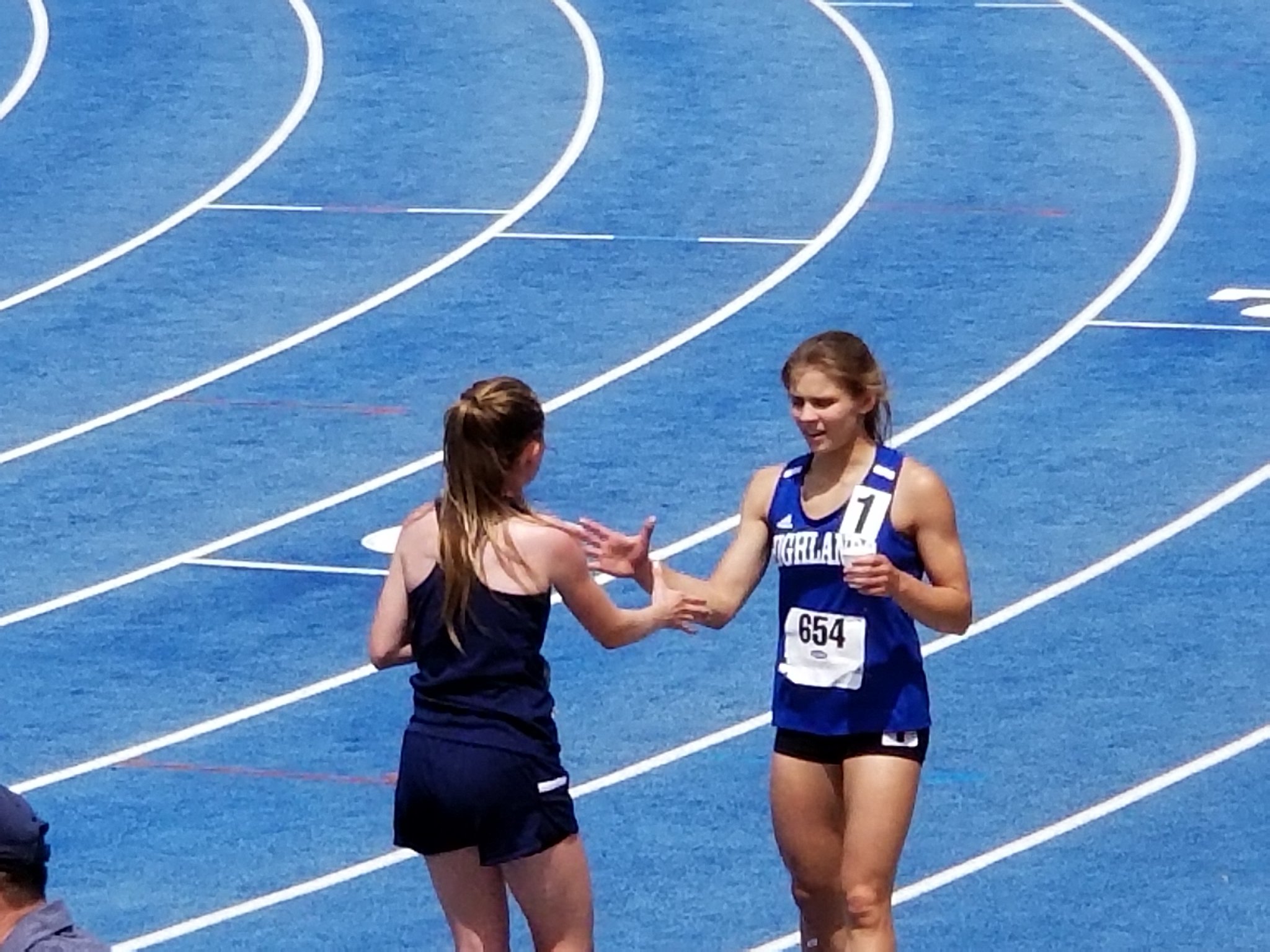 Twitter Photo. Highlands sophomore Maggie Schroeder congratulates Elizabethtown senior champion Sarah Been after finishing runner-up in the two-mile run at the Class 2A state track and field meet.
The Highlands track and field teams took to the University of Kentucky for the Class 2A state championships. They started Friday and ended Saturday because of the weather.
The Highlands girls finished 12th with 24 points and the Highlands boys tied for 31st with five. Mercer County won the girls 2A state championship and Boyle County won the boys side.
Highlands sophomore
Maggie Schroeder
had the highest finish on the girls side. She finished second in the two-mile run in 11 minutes, 34.95 seconds to score eight points. Schroeder also helped the two-mile relay team to a third-place finish in 9:58.72 along with senior
Lindsey Meyer
, junior
Maria Broering
and freshman
Alyssa Harris
.
Roofing, painting, gutters, siding.
Junior
Adriana Muntaner
took fifth in the 100 meter hurdles in 16.46 seconds and seventh in the 300 hurdles in 48.71 seconds. She also helped the 800 relay team finish sixth in 1:50.42. Teammates are senior
Hannah Hartman
and freshmen
Faith Broering
and
Emmie Brewer
. Hartman also took eighth in the high jump at 15 feet, nine inches.
On the boys side, only the two-mile relay team scored in the state taking fourth in 8:33.95. Team members are senior
Donovan Staab
, junior
Grant Uhlenbrock
, sophomore
Will Griffith
and freshman Thomas
Gray-Torsell
.
The Highlands girls track team has four state championships in school history four-peating between 2008 and 2011. The Highlands boys have won it three times most recently in 2014.